RiTA & Submap update
Hemos actualizado los software RiTA y Submap. / We have updated the RiTA and Submap software.
Esta actualización soluciona un error que complicaba la exportación y la importación de las mediciones en RiTA y organiza todos los software en una misma carpeta:
This update fixes an error that complicated the export and import of measurements in RiTA and organizes all software in the same folder:
MAC: Applications/GlobalAudioSolutions

Windows: Program Files/GlobalAudioSolutions

ACTUALIZACIÓN EN RiTA / RiTA UPDATE
Se solucionan las incompatibilidades y errores en los directorios de almacenamiento de las memorias. / Incompatibilities and errors in memory storage directories are fixed.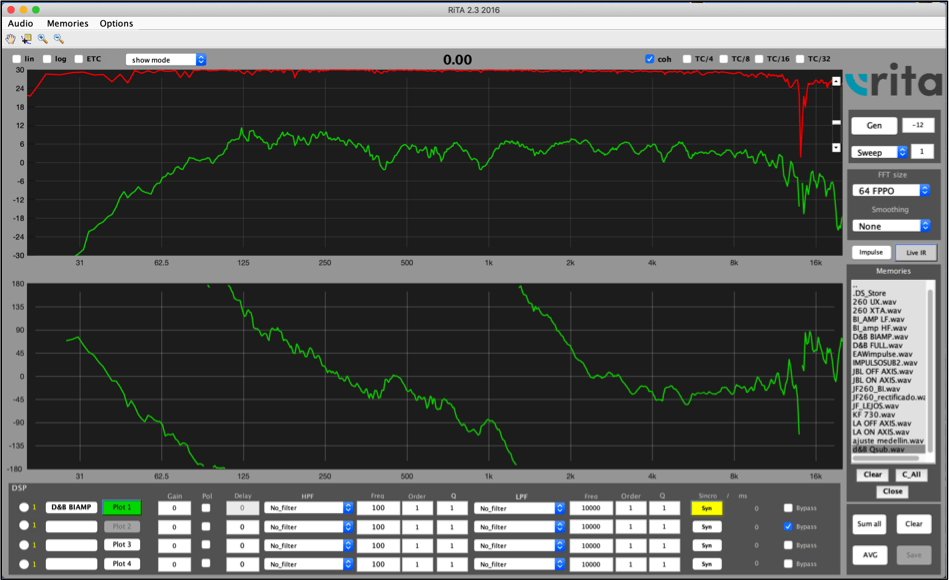 Las memorias se almacenan en los siguientes directorios: / Memories are stored in the following directories:
MAC: Applications/GlobalAudioSolutions/Audio/Memories

Windows: Program Files/GlobalAudioSolutions/Audio/Memories

DESCARGA DESDE LA PÁGINA WEB / DOWNLOAD FROM WEB PAGE
Para facilitar la compatibilidad de todas las aplicaciones y minimizar el uso de pesados compiladores, todas las aplicaciones se desarrollan con el compilador R2019a (v9.6), tanto en Windows como en Mac. Con una excepción.
To facilitate the compatibility of all applications and minimize the use of heavy compilers, all applications are developed with the R2019a compiler (v9.6), both on Windows and Mac. With one exception.
MAC
RiTA para Mac se desarrolla con 2 compiladores distintos para adaptarse a las distintas versiones del sistema operativo. / RiTA for Mac is developed with 2 different compilers to adapt to different versions of the operating system:
RiTA 2.3 2016: From Mac OS X 10.10 (Yosemite) to Mac OS X 10.12 (Sierra).
RiTA 2.3 2019: From Mac OS X 10.13 (High Sierra) ….

WINDOWS
Todas las aplicaciones para Windows se desarrollan con el compilador R2019a (v9.6) / All applications for Windows are developed with the R2019a compiler (v9.6)

NOTAS / NOTES
Estas actualizaciones se instalarán en un directorio distinto que las versiones anteriores, por lo que no eliminarán los software previamente instalados. Una vez comprobado que las nuevas versiones funcionan correctamente, recomendamos desinstalar las carpetas (si existen):

These updates will be installed in a different directory than previous versions, so they will not remove previously installed software. Once you have verified that the new versions work correctly, we recommend uninstalling the folders (if they exist):
MAC: Applications/Global_Audio_Solutions

MAC: Applications/Global Audio Solutions

Windows: Program Files/Global_Audio_Solutions

Windows: Program Files/Global Audio Solutions

La pestaña de impulso no funciona en RiTA_2_3_2019, se intentará solucionar para la próxima versión. Si se quiere mantener esta función, se debe utilizar RiTA_2_3_2016. Esta versión funciona desde OS X 10.10 (Yosemite) hasta OS X 10.14.3 (Mojave). Las versiones OS X 10.14.4 y siguientes no soportan Matlab 2016

The impulse tab does not work in RiTA_2_3_2019, it will try to solve for the next version. If this function is to be maintained, RiTA_2_3_2016 must be used. This version works from OS X 10.10 (Yosemite) to OS X 10.14.3 (Mojave). OS X versions 10.14.4 and later do not support Matlab 2016